Why Young Labour?
Politics is taking our knowledge of the past, applying it to the present, and using it to shape our future – and nobody is impacted more by the future than young people. The future is bleak for young people across the planet. The right-wing are stripping us young people of our security in a bright, prosperous future by cutting our access to education and healthcare, destroying our planet and stigmatizing issues close to our hearts such as equality, sexuality and mental health. They're creating a world in which the young are left behind in favour of the wealthy and the powerful – but it doesn't have to be this way.
Together, we have power and strength, and our voices need to be heard for the sake of not only ourselves, but for those who came before us and for those who will come after us. We will not be left behind and we will not be ignored any longer. As young democratic socialists, we at Tunbridge Wells Young Labour are campaigning for a fairer world for every individual, and we invite all our peers to join us in the good fight. Our doors are open to everybody.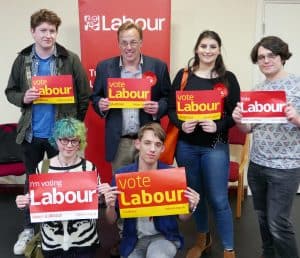 If you're a young person and ready to make a difference, don't hesitate to contact our chairpeople Pablo John or  Jasmine Guy to find out more about how you can get involved. We hold meetings once a month, with a relaxed, informal and welcoming atmosphere, and encourage everyone to attend regardless of political experience.
Tunbridge Wells Young Labour Secretary and Membership and Campaigns Officer