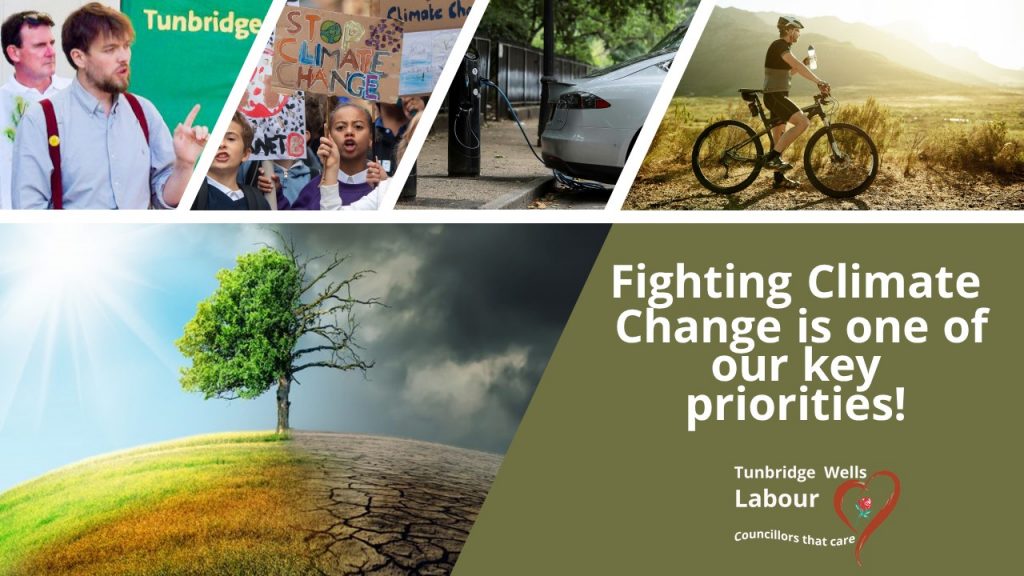 Tunbridge Wells Labour Councillors will use their voices to promote green policies and ensure that we are responding to the existential threat of climate change with decisive action locally. We are proud of the role we played in the setting of an ambitious 2030 carbon neutral target for Tunbridge Wells. Since this recognition that we face a climate and biodiversity emergency, the Conservative-led Council has
failed to make sufficient progress and has dragged its feet. They have not responded pro-actively to the significant changes and opportunities brought about by the pandemic to secure the long lasting environmental and sustainability benefits that were on offer. The Conservatives have failed the test on climate action.

Our planet cannot afford inaction, a lack of willingness to reduce air pollution and to stop the continued loss of biodiversity. The health and lives of the current and next generation is at stake. We must treat this as a local emergency, lead the way and be a truly green Council and Borough.

Labour Councillors will work to:

1. Put renewed focus into delivering local action to become a carbon neutral authority by 2030 without any further delay.

2. Quickly establish the long promised Citizens' Assembly that will be a collaborative, resident focused means of meeting this challenge.

3. Place sustainability principles at the forefront of all new development and appoint a Climate Emergency Officer to focus on reaching our 2030 target.

4. Promote the switch to electric vehicles to reduce vehicle emissions, by rolling out an expansion of electric charging points throughout the Borough.

5. Protect existing rural bus routes and restore and expand lost bus services across the Borough.

6. Campaign for a more affordable, integrated local public transport system to reduce unnecessary car journeys and improve air quality.

7. Promote cycling and walking by creating networks of safe, direct walking and cycling routes including segregated cycle routes on main roads.

8. Support 20mph residential speed limits, Low Traffic Neighbourhoods, invest in parks and open spaces and reclaim streets for pedestrians from cars.

9. Commit to using revenue from the Garden Waste Tax for ring fenced green initiatives, end bulky waste collection fees to reduce fly tipping and increase provision of litter bins and the frequency that they are emptied.

10.Back a borough-wide tree planting programme and assess how we can promote greater biodiversity.

Labour Councillors will continue to lead the way on climate change and biodiversity – pushing to achieve our ambitions for a truly green Tunbridge Wells. We will support sustainable development which meets the needs of residents and oppose development where it does not.
We will challenge the complacency of Conservative councillors who seek to pay lip service to achieving our 2030 Carbon Neutral goal
whilst assuming that business can carry on as usual.