Why we are against the scheme
We want to see a vibrant local economy for Tunbridge Wells that benefits all residents across the Borough. Regeneration and investment are required but this scheme is the wrong priority. We oppose the Conservative's policy to spend over £90 million on a new 1200 seat theatre and new council offices with underground car park. Funded by a 50 year mortgage and annual debt repayments of at least £2.3million, this is a high risk venture that is unlikely to ever be subsidy free. At a time when Council Tax across the board has risen by 4.5% in 2019/20 and there has been a 16% cut in the grants allocations budget, it is the not the right thing to do.
The scheme will saddle residents with unsustainable debt and mean there is less money in the future to invest in the real priorities of residents. The investment is exclusively Tunbridge Wells focused and offers few benefits for rural towns and villages. It is another example of benefits for the few paid for by the many. A political choice for a project which has little public support.
Failure of this scheme will be a financial catastrophe for the Council and services would need to be cut to afford the repayments. Northamptonshire County Council is a lesson for us all – a Council which built a new Civic Centre and had to immediately sell and lease it back to avoid bankruptcy. We believe that the delivery of this project without any meaningful public consultation to demonstrate widespread support undermines the likelihood of its success.
The Labour Vision for Regeneration and Investment in our Borough
We support the refurbishment of the existing council-owned offices and theatre – as was originally intended. The Town Hall is an imposing 1930s building ripe for modernisation to create the much-needed office space for essential council staff and for external rental to provide revenue streams. A refurbished Assembly Hall could provide a more successful flexible space for modern cultural events. Given the proximity of Tunbridge Wells to London, securing West End productions is not crucial to the future success of a theatre in the Borough.
Labour Councillors and activists will continue to oppose the Civic Centre project and promote our alternative, raising the profile of our position locally to increase public awareness and support. We will work with others who also oppose the project.
Amelia Scott Centre
We support initiatives to improve the cultural offer in the Borough such as the Amelia Scott Centre development in the centre of Tunbridge Wells. This scheme shows what can be achieved by blending old iconic buildings with the new in an affordable way that provides a community facility for current and future generations at a fraction of the cost of new build for the Civic Centre project.
Why not share this graphic via your social media account if this is something you feel strongly about.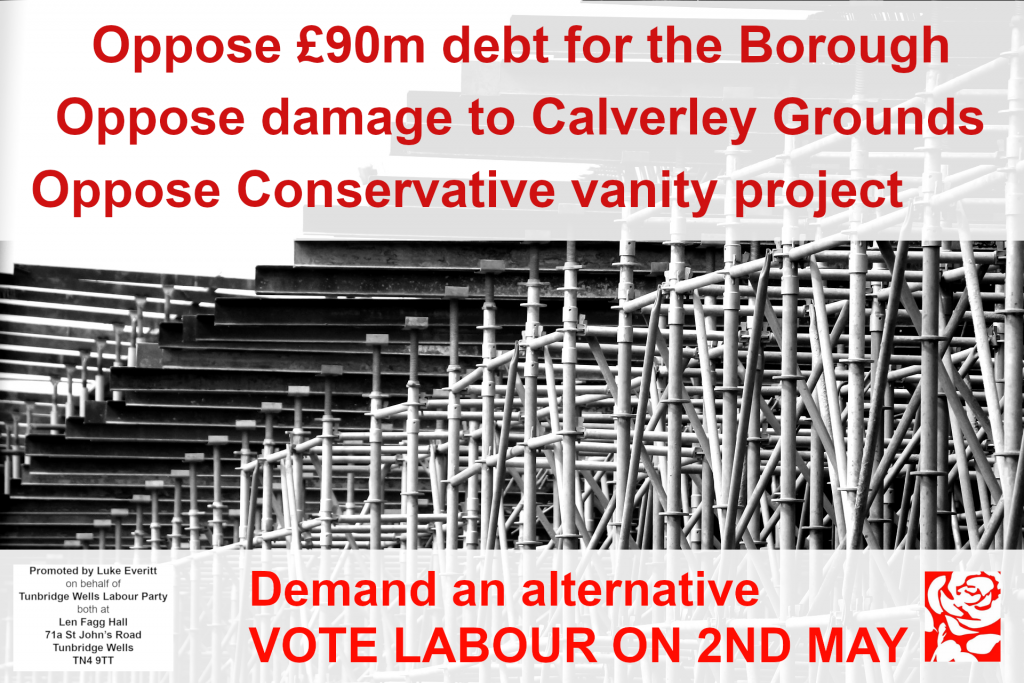 NEXT | Pledge 2 | Address the Housing Crisis