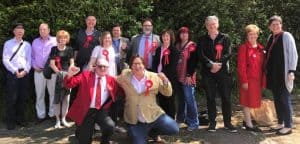 We had a stunning success in Southborough and High Brooms where Alain Lewis won with 62% of the vote. We managed to double our vote in Sherwood and St John's. Not quite enough to win but enough to build on next year. Labour voters had the opportunity to vote for their candidates across the borough and to say "No" to the expensive and unnecessary new civic complex and theatre in the centre of Tunbridge Wells.
"This election was the referendum the Conservatives never wanted. The results are conclusive, more conclusive even than the EU referendum. 57% of voters backed parties that were opposed to the new civic complex and theatre. 43% of voters backed the Conservatives who put forward the plan. We were right. This council does not have a mandate for the civic complex. Voters have sent them an instruction to stop the project and think again. Our Labour team of councillors will continue to oppose the plan and work for the real priorities that continue to worry people in the borough: genuinely affordable housing; better roads, public transport and parking; and a revival of our towns and villages." Hugo Pound, Chair, Tunbridge Wells Constituency Labour Party
Full election results can be found on the Tunbridge Wells Borough Council website.