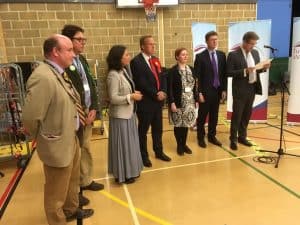 | Election Candidate | Party | % Votes |
| --- | --- | --- |
| Greg Clark | Conservative | 57% – Elected |
| Charles Francis Woodgate | Labour | 27% |
| Rachel Cerys Sadler | Liberal Democrat | 10% |
| Chris Hoare | UK Independence Party | 3% |
| Trevor Tyrone Bisdee | Green Party | 3% |
| Celine Thomas | Women's Equality Party | 1% |
Vote share change since 2015
---
Statement about the election result
"Whilst we congratulate Greg Clark on his re-election in Tunbridge Wells we would point out that he is the only Conservative candidate in Kent, Medway, and nearby East Sussex constituencies to have suffered a loss in his share of the vote by – 1.8%. Meanwhile, our candidate Charles Woodgate secured an increase in the Labour share of the vote by +12.3%, a 7% swing to Labour.
We achieved the best vote and the best share of the vote for a Labour candidate since the constituency was formed in 1974.
There were many people in a constituency that voted Remain who felt betrayed by their MP serving in a government that is supporting a hard Brexit and driving through budget cuts that are devastating our health and public services. The increase in Labour's vote was an endorsement of a manifesto of hope, a softer jobs-driven Brexit, and an end to austerity.
We take inspiration from voters in Canterbury, and the surge in support from young people. We look forward to a further opportunity to get rid of this lame duck government. We continue efforts to elect a new Labour MP at the next election – whenever that might be."
Martin Betts
Election Agent and Campaign Manager
on behalf of Charles Woodgate and Tunbridge Wells Constituency Labour Party