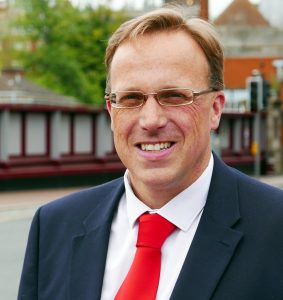 Article by Charles Woodgate published in the Times of Tunbridge Wells and Tonbridge 17 May 2017
I am delighted to have been chosen as Labour candidate to be your next MP in Tunbridge Wells. I was born in and have spent most of my life living in Kent, where I now live with my wife Liza and our two young sons.
I have a strong business background and have spent the last 30 years of my life working in international trade, finance and banking.
This General Election is a choice between a Labour Party who will stand up for the many and a Conservative Party which only looks after the privileged few.
Under the Conservatives the NHS and social care have been pushed into a state of emergency, with soaring waiting lists and hospitals in financial crisis. Both our local hospital and ambulance trusts are in special measures and there is not enough money for many older people to get the care they need.
Schools across the country face cuts and class sizes are rising. Over the next two years £78 million is being cut from school budgets in Kent – equivalent to a loss of 2110 teachers. Young people who want to go to university face huge debts.
House building has fallen to its lowest peacetime rate since the 1920s. And our safety has been compromised with more than 20,000 police officers cut since 2010.
Over the past seven years the Conservatives have been giving the super-rich tax breaks, worth tens of billions, whilst working families are worse off. Under Theresa May, working families are set to be on average over £1,400 a year worse off.
This election is not a re-run of the EU referendum. The decision to leave the EU has already been settled by the British people. But we oppose Theresa May's reckless approach to Brexit and her not-so-hidden agenda to turn Britain into a low wage, tax haven for big business.
Labour is the only party that can be trusted to put the interests of working people first in the Brexit negotiations.
This General Election is the chance for a fresh start with a Labour government. Instead of a country run for the richest, Labour wants to see one in which all of us can lead richer lives. It would be a fairer Britain in which no one would be held back.
Labour will invest to create shared prosperity. We will protect our public services, giving the NHS the money it needs and delivering good teaching in good schools for all our children. And we will take an alternative approach to Brexit: one which protects jobs and the economy, investing in infrastructure, skills, new technology and the green industries for the future.
A Labour government will stand up for you. We will deliver a better, fairer Britain where prosperity is shared, everyone is rewarded fairly for hard work and where a home to rent or buy is affordable. We will build a Britain for the many not the few.
I look forward to this election and the chance to meet you during the campaign.