Parliamentary Candidate for Tunbridge Wells
Tunbridge Wells Labour is pleased to announce that our candidate for the General Election is Charles Woodgate. 
Charles was born and has lived in different parts of Kent for most of his life. He currently lives in Tilmanstone in East Kent with his wife Liza and two young sons. He has 30 years of experience in international trade, finance and banking
On becoming candidate Charles Woodgate said:
"I am delighted at having been chosen to put the case for Labour in Tunbridge Wells. My campaign will be focusing on the record of seven years of Tory economic failure. Living standards are being squeezed and working people are being hit hard.
Tory austerity is failing. Public services are being ruthlessly cut back.  The local hospital and ambulance trusts are in special measures. Operations have been postponed or cancelled.  Across a wealthy area like Tunbridge Wells school budgets are being cut, we are losing teachers, and many parents can't get children into local schools.
There is a crisis in social care. Looking after the elderly is increasingly hard to deliver. There is not enough money. There is a massive housing shortage. Many people cannot buy the home they want and those who rent are finding rent payments are rising faster than wages.
I look forward to arguing the Labour case for a better Britain where there are decent jobs, there is investment for the future, shared wealth creation, security at work, and affordable homes for all.  I want to see a fully funded NHS and schools, training and skills, an end to rip-off privatisation, fair taxation and a fairer, more equal country.
I look forward to the campaign."  To see Charles Woodgate's election leaflet click here.
---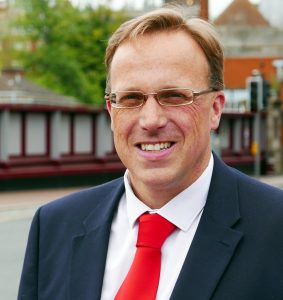 Standing up for the many in Tunbridge Wells
 I am delighted to have been chosen as Labour candidate to be your next MP in Tunbridge Wells. I was born in and have spent most of my life living in Kent, where I now live with my wife Liza and our two young sons.
I have a strong business background and have spent the last 30 years of my life working in international trade, finance and banking.
This General Election is a choice between a Labour Party who will stand up for the many and a Conservative Party which only looks after the privileged few.
Under the Conservatives the NHS and social care have been pushed into a state of emergency, with soaring waiting lists and hospitals in financial crisis. Both our local hospital and ambulance trusts are in special measures and there is not enough money for many older people to get the care they need.
Schools across the country face cuts and class sizes are rising. Over the next two years £78 million is being cut from school budgets in Kent – equivalent to a loss of 2110 teachers. Young people who want to go to university face huge debts.
House building has fallen to its lowest peacetime rate since the 1920s. And our safety has been compromised with more than 20,000 police officers cut since 2010.
Over the past seven years the Conservatives have been giving the super-rich tax breaks, worth tens of billions, whilst working families are worse off. Under Theresa May, working families are set to be on average over £1,400 a year worse off.
This election is not a re-run of the EU referendum. The decision to leave the EU has already been settled by the British people. But we oppose Theresa May's reckless approach to Brexit and her not-so-hidden agenda to turn Britain into a low wage, tax haven for big business.
Labour is the only party that can be trusted to put the interests of working people first in the Brexit negotiations.
This General Election is the chance for a fresh start with a Labour government. Instead of a country run for the richest, Labour wants to see one in which all of us can lead richer lives. It would be a fairer Britain in which no one would be held back.
Labour will invest to create shared prosperity. We will protect our public services, giving the NHS the money it needs and delivering good teaching in good schools for all our children. And we will take an alternative approach to Brexit: one which protects jobs and the economy, investing in infrastructure, skills, new technology and the green industries for the future.
A Labour government will stand up for you. We will deliver a better, fairer Britain where prosperity is shared, everyone is rewarded fairly for hard work and where a home to rent or buy is affordable. We will build a Britain for the many not the few.
I look forward to this election and the chance to meet you during the campaign.
---
School Budgets across Kent slashed by £78m
Across Kent the Conservatives are planning £78m of school budget cuts over the next two years. This is equal to a loss of 211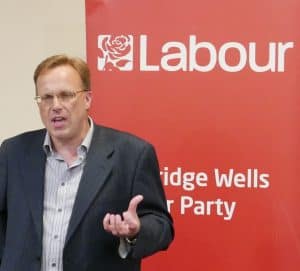 0 teachers.  All Tunbridge Wells schools face massive budget cuts by 2019. That's less teachers, increased class sizes, less books and equipment, and less courses available to secondary school pupils.  To survive BREXIT and prepare our children for the future we must be putting more, not less, investment into their education. To see how much your child's school is due to lose visit the School Cuts website and insert your postcode.
Charles Woodgate said 'Labour will ensure that schools get the funding they need and focus on what matters most in our schools: reducing class sizes and driving up teaching standards. We will stand up for all our young people by introducing universal free school meals for primary school children, funded by introducing VAT on private school fees; and reintroducing an Education Maintenance Allowance and maintenance grants for students from low and middle-income backgrounds.'
Labour opposes the costly extension of selective and free schools and will ensure that ensure all parents have high-quality local school places for their children.
A Labour government would raise corporate taxes to fund a £6bn-a-year boost to schools budgets by the end of the next parliament and create a National Education Service to equip Britain's workers for the post-Brexit economy,